My Blog
Posts for: May, 2013
By Gallery Dental
May 30, 2013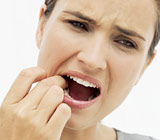 You experience a painful toothache that lasts for a few days, but eventually the pain subsides. Since there's no longer any pain, there's no longer anything wrong with the tooth, right?
Maybe not — the toothache may be the result of a decay-induced infection that has developed deep in the pulp of the tooth. The infection inflames both the pulp tissue and the nerves bundled in it (a condition known as pulpitis). Because it occurs in an enclosed space, the pain is even more severe.
Now it's possible for the inflammation to subside and the nerves to heal, which would explain the pain subsiding. But there is another, more likely scenario: the infected pulp tissue can no longer fight the infection and dies. The affected nerves die also, which is why you no longer feel any pain — the dead nerves are no longer transmitting a signal to the brain. The infection, however, is very much alive and continues to advance deeper into the surrounding tissues where it may eventually develop into a painful abscess.
So, how can we determine which of these two scenarios you are actually experiencing? A visit to our office for testing is the surest way to find out. The most common test involves temperature sensation, usually with the application of ice to the affected tooth. If there's no sensation, then that's evidence the nerves in the tooth have died.
If that's the case, it's important then to take steps to stop the infection's advance before it does even more damage. The most likely treatment is a root canal, a procedure that accesses the pulp from the top of the tooth, removes the dead tissue, and then cleans and prepares the root canals for filling. This procedure can usually be performed in our office, but more involved cases may require an endodontist, a specialist in root canals.
In any case, if you experience a severe toothache, please have it examined. And remember — the absence of pain after a toothache doesn't necessarily mean the problem is gone.
If you would like more information on the diagnosis and treatment of an acute toothache, please contact us or schedule an appointment for a consultation. You can also learn more about this topic by reading the Dear Doctor magazine article "A Severe Toothache."
By Gallery Dental
May 15, 2013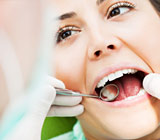 For decades, dental amalgam — the common "silver" fillings found in the mouths of millions — was the best option for restoring teeth after the removal of decay. This time-tested material is still going strong, but in recent years it's had serious competition from newer restoration techniques that use tooth-colored substances to make fillings. If you've heard of these new materials and want to know more, you can start with the following five facts.
1) Filling materials must match the properties of natural teeth.
When properly cared for, teeth are strong, resilient, and superbly functional. A good filling material should mimic the strength and durability of natural teeth under biting forces. It should also last a long time in the mouth, be relatively easy to place, and be economical in cost. In the past, amalgam fillings were the best choice to do the job. But that was then.
2) Tooth-colored filling materials offer similar benefits, plus aesthetic appeal.
Composite resins and dental porcelains are tough, durable materials that have been found to hold up well under years of use. Unlike traditional silver fillings, however, they match the appearance of natural teeth quite closely. This means that even a restoration in the front of the mouth may be virtually undetectable. And who wouldn't like that?
3) Tooth-colored resins may allow more conservative treatment in decay removal.
In order to keep them securely in place, amalgam (silver) fillings may require "undercutting," which removes more of the tooth structure. The process involved in bonding tooth-colored restorations, however, generally requires removal of less tooth material. This means a stronger base for rebuilding the tooth's structure.
4) Different treatment methods are used for different degrees of tooth restoration.
Small cavities can be treated by direct "chairside" techniques, which are very similar to the methods used for traditional amalgam (silver) fillings: in one brief visit, it's all done. When a greater volume of tooth structure must be replaced, we may be able to create a larger tooth-colored filling in a longer visit. Or, we might need to have a special restoration made to match your teeth; then, you can come back to have it securely bonded for a natural and long-lasting result.
5) Both amalgam and tooth-colored fillings are safe and effective.
Each has advantages and disadvantages in particular cases. But as the technology of tooth-colored filling systems evolves, some dental researchers have heralded the beginning of the "post-amalgam era." Are tooth-colored fillings right for your individual situation? We're the ones to ask.
If you would like more information about tooth-colored fillings, please contact us or schedule an appointment for a consultation. You can also learn more about this topic by reading the Dear Doctor magazine article "The Natural Beauty of Tooth-Colored Fillings."