My Blog
Posts for: January, 2016
By Gallery Dental
January 16, 2016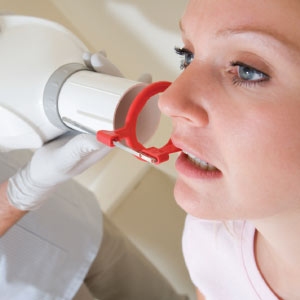 Radiographic (x-ray) images are an indispensible diagnostic tool in dentistry. One of the most routine and useful types of x-rays dentists take is the so-called bitewing. Here are some things you may want to know about this common diagnostic procedure.
What are bitewing x-rays?
Bitewings reveal the presence and extent of decay in the back teeth, specifically in areas where adjacent teeth touch each other. Unlike other areas of the teeth, these contacting surfaces between adjacent teeth can't be examined visually. Bitewings can also show areas of bone loss around teeth — a sign of periodontal disease; however, they are not taken for that purpose because bitewings will not show the complete root surface that is surrounded by bone.
Why are they called that?
The name "bitewing" refers to how the film — or sensor, in the case of a digital x-ray — is positioned in the mouth: The patient bites down on a little tab or wing that holds the apparatus in place.
How often do I need them?
This is determined on a case-by-case basis, with the goal of not exposing you to any more radiation than necessary — even the minimal amount found in a series of bitewing x-rays. Your individual susceptibility to caries (tooth decay) and personal dental history will play a major role in determining how frequently you need radiographic examination — and, for that matter, how often you need to come in for routine cleanings and exams.
Are they safe?
The safety of bitewing x-rays is best illustrated with a comparison to the regular daily radiation exposure we get every day from environmental sources, which is about 0.01 millisieverts — the unit of measure we use for radiation. A series of 4 bitewing x-rays exposes you to 0.004 millisieverts of radiation — less than half of the daily exposure. Undetected tooth decay, which can spread quickly through the softer inner layers of teeth, is considered much more dangerous!
If a bitewing x-ray shows that there is tooth decay, what happens next?
If the cavity is very small, we may be able to treat it during the same appointment. If not, we will make a separate appointment to make sure it is taken care of promptly. The sooner tooth decay is treated, the better!
What if I have more questions?
Contact our office, or schedule an appointment for a consultation.
By Gallery Dental
January 08, 2016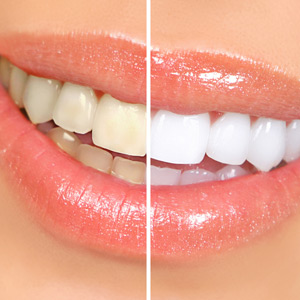 Transforming your smile doesn't necessarily require complex treatments like orthodontics, dental implants or porcelain veneers. Sometimes a little brightness can mean all the difference in the world.
Bleaching (or teeth whitening) is a proven method for dealing with tooth discoloration and staining. Nearly all whitening products, whether home or professional, contain the bleaching agent carbamide peroxide or its breakdown product hydrogen peroxide. These agents effectively diminish staining deep within a tooth (intrinsic) or on the enamel surface (extrinsic), although intrinsic staining will require a more invasive office procedure.
If you have extrinsic staining you have three basic options: dental office bleaching, a retail home kit or a kit purchased from a dentist. Again, you'll find the same basic bleaching agents in each of these versions. The difference will be the concentration: home kits contain about 10% agent by volume, while the office application will be a much higher range of 15% to 35% (which may also employ specialized lights or lasers to increase the bleaching effect). As a result, an office bleaching may take only a visit or two to achieve the desired brightness while a home kit about two or three weeks.
Whitening is a more economical route for smile enhancement of otherwise sound teeth than other measures. But there are other considerations you should weigh before undergoing a procedure. Whitening isn't a permanent fix — the brightness will diminish over time, optimally six months to a year in what dentists call the "fade rate." You can slow this process by avoiding or limiting foods and habits that cause staining.
If you have other dental work — crowns, bridgework or fillings — it may be difficult to achieve a tint level that matches these restorations, especially at home. And while whitening is relatively safe (as long as you're using your kit as directed), you may experience tooth sensitivity, gum irritation or other minor oral side effects.
Before you decide on whitening, visit us first for a complete dental examination. From there we can advise you on whether whitening is a good smile enhancement choice for you.
If you would like more information on teeth whitening, please contact us or schedule an appointment for a consultation. You can also learn more about this topic by reading the Dear Doctor magazine article "Teeth Whitening."