My Blog
Posts for tag: gum surgery
By Gallery Dental
November 03, 2018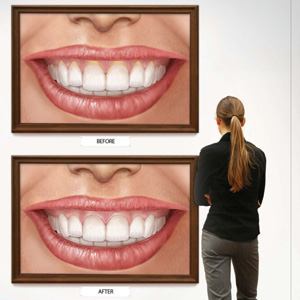 While the term "plastic surgery" might bring to mind face lifts or tummy tucks, not all procedures in this particular surgical field are strictly cosmetic. Some can make a big difference in a person's health.
One example is periodontal plastic surgery, which corrects gum tissue loss around the teeth. Although these procedures can indeed improve appearance, they more importantly help save teeth.
Gum loss is most often a consequence of periodontal (gum) disease, a bacterial infection arising from a thin film of food particles on the teeth called dental plaque. As the disease weakens the gums' attachment to teeth, they shrink back or recede, exposing the area around the roots. Without the protective cover the gums provide the roots, they become more susceptible to decay.
In milder cases of gum recession, treating the infection often results in the gums regaining their normal attachment to teeth. But with more advanced recession, natural gum healing may not be enough to reverse it. For such situations grafting donor tissue to the recessed area can help stimulate new tissue growth.
While gum tissue grafts can come from an animal or other human, the most likely source is from the person themselves. In one type of procedure, free gingival grafting, the surgeon locates and completely removes (or "frees") a thin layer of skin resembling gum tissue, typically from the roof of the mouth, shapes it and then transplants it by suturing it to the recession site. Both donor and recipient sites heal at about the same rate in two to three weeks.
Another technique is known as connective tissue grafting. In this procedure the surgeon partially removes the donor tissue from its site while leaving a portion containing blood vessels intact. The palatal tissue is still used and transported to fit beneath the tissue that's still attached to the blood supply. This connective tissue graft is then positioned and sutured to the recipient site while still maintaining its blood supply connection at the donor site. Maintaining this connection facilitates healing and increases the chances the graft will "take" and become firmly attached to the new site.
Grafting procedures require advanced techniques and skills. But with them we may be able to restore gum attachment to teeth with an impact on appearance and dental health that's well worth the effort.
If you would like more information on treating gum disease, please contact us or schedule an appointment for a consultation. You can also learn more about this topic by reading the Dear Doctor magazine article "Periodontal Plastic Surgery."
By Gallery Dental
June 10, 2014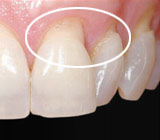 Q: Why should I consider cosmetic gum surgery to improve my smile?
A: If you're looking to enhance the natural beauty of your smile, you may have heard about various cosmetic procedures that can improve the appearance of your teeth. But don't forget about the other, equally important element of a bright, appealing smile: the healthy-looking and well-proportioned gums that surround and support those pearly whites. Many times, cosmetic flaws are caused by gum tissue that's covering too much or too little of the tooth's surface; in other situations, the gum line is uneven, and covers some teeth more than others. Cosmetic gum surgery can successfully remedy these imperfections.
Q: How exactly does cosmetic gum surgery resolve smile defects?
A: There are several minor surgical procedures that may be recommended, depending on what's best for your individual situation. For example, some people have a "gummy smile," where teeth seem excessively "short" because they're covered with too much gum tissue. In this case, a "crown lengthening" procedure can be performed, where gum tissue (and perhaps a small amount of bone tissue) is removed; this makes the teeth appear in better proportion to the smile. In the opposite case — where the teeth appear too "long" due to receding (shrinking) gums, tissue can be grafted (added on) to the gums. Gum recontouring procedures are used to re-shape the gum line for a more even, pleasing effect.
Q: Are there non-cosmetic reasons for having gum surgery?
A: Yes. A tooth with too much of its root area exposed is often more prone to decay, and may become extremely sensitive to hot or cold. Covering an exposed root with gum tissue is just one non-cosmetic reason why gum surgery may be necessary.
Q: What's involved in gum surgery — do I have to go to the hospital?
A: Cosmetic gum surgery is normally performed in the dental office, and usually involves only a local anesthetic. However, if you need a deeper level of relaxation, other forms of sedation may be available. In some cases, lasers can be used instead of conventional surgical tools to remove excess gum tissue. If you need a tissue graft, the grafting material can be taken from your own mouth, or may come from donor tissue that is processed to ensure your safety. Gum surgery is minimally invasive, and most people experience only minor discomfort.
If you'd like to know whether cosmetic gum surgery could help you get the smile you've always wanted, please contact us or schedule an appointment for a consultation. You can learn more by reading the Dear Doctor magazine articles "Gummy Smiles" and "Periodontal Plastic Surgery."