My Blog
Posts for tag: missing tooth
By Gallery Dental
October 18, 2015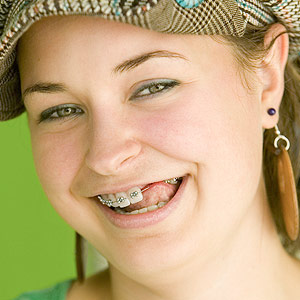 There are good reasons, for both health and appearance, to replace a missing tooth with a dental implant or similar restoration as soon as is practical. The bone around a tooth socket diminishes the longer it remains empty, up to 25% the first year. And, of course, your smile is less attractive, especially with a highly visible tooth.
If it's your teenager, though, you may need to wait on a permanent restoration because their jaws are still developing. An implant placed before completion of jaw development could eventually appear out of alignment with neighboring teeth.
Our biggest concern is protecting bone health at the site of the missing tooth. We can do this and encourage growth by placing bone grafts (processed minerals from another donor) that serve as scaffolds on which surrounding bone can grow. Grafts usually dissolve (resorb) over time, but the rate of resorption can be slowed for a younger patient in need of long-term bone growth.
Planned orthodontic treatment can usually go on as scheduled. The orthodontist may accommodate the tooth loss by adding a temporary tooth within the braces or other device that matches the color and shape of the patient's natural teeth. The orthodontist will also take care to maintain the empty space for a future implant or other restoration.
A dental implant is considered the best option for a missing tooth, not only for its life-like appearance and durability, but also its ability to encourage bone maintenance. Timing, though, is essential for teenagers. As it grows, the upper jaw will tend to move forward and down. Natural teeth move with this growth; implants, though, are attached differently and won't move with the jawbone. While the other teeth around them move, the implants can appear to shrink back resulting in an unattractive smile appearance. So waiting until the jaw has finished growing is important.
For most people, jaw growth finishes by age twenty-one for men, women usually faster, but each person is different. The dentist's expertise and experience, coupled with comparisons of adult family members' facial appearances, will help determine the right time to undertake a permanent restoration for the best outcome both for health and a permanent, attractive smile.
If you would like more information on treating teenagers with missing teeth, please contact us to schedule an appointment for a consultation. You can also learn more about this topic by reading the Dear Doctor magazine article "Dental Implants for Teenagers."
By Gallery Dental
June 26, 2013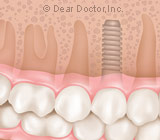 A dental implant as a permanent replacement for a missing tooth can match or even look better than your original tooth. How this happens takes knowledge, skill, experience, and even some art.
Here are some of the factors involved:
Bone quantity and quality: To look and function like an original tooth, an implant must be supported by an adequate base of (jaw) bone and gum tissue. Bone has a tendency to melt away or resorb after a tooth is lost. Using new bone grafting techniques can help minimize the bone loss that occurs during healing at the extraction site. Bone grafting can also be used to rebuild lost bone at the implant site.
Adequate bone supporting neighboring teeth: If you lose bone that supports teeth on either side of an implant, the papillae (the little pink triangles of gum tissue between the teeth) may not regenerate after the implant is placed.
Your inborn tissue type: If your gum tissues are thin and delicate rather than thick and robust, they will be more difficult to work with. To ensure that there is sufficient gum tissue support, (gum) grafting may be necessary.
Using the temporary crown as a template: A dental implant actually replaces a tooth root. Most dental implants are made of commercially pure titanium, which fuses with the bone in your jaw, making it very stable. The crown, the part of the tooth that is visible above the gum line, is attached to the implant; a customized temporary crown can be fitted to the implant. The temporary crown is a trial for the final crown. It can be used to assess color, shape, the appearance of your smile, and the implantâ??s function in your bite and speech. It gives you the opportunity to decide about design adjustments before the final, permanent crown is placed.
The skill, experience, and collaboration of your dental team: Each situation is different. The final success of your implant depends on your pre-surgical assessment and diagnosis, as well as how the surgical and restorative phases of treatment are performed. The use of an outstanding dental laboratory is vital to a successful result.
Contact us today to schedule an appointment for an assessment or to discuss your questions about dental implants. You can also learn more by reading the Dear Doctor magazine article "Matching Teeth & Implants."
By Gallery Dental
October 02, 2011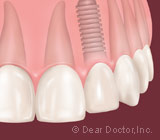 If you've lost one or more of your teeth due to tooth decay, trauma, gum disease or a failed root canal, there are a variety of ways that our office can help you to restore your smile and increase your confidence. Crowns, conventional bridges and dentures aren't your only options for replacing missing teeth. Dental implants, surgically placed below the gums, are another alternative for replacing missing teeth.
Getting Started: If you would like to explore the option of having dental implants to replace one or more teeth, you will first need a comprehensive exam. The ideal candidate for implants is in good general and oral health. Adequate bone in your jaw is needed to support an implant. Smokers and those with uncontrolled chronic diseases like diabetes may not be good candidates for dental implants because healing may be impaired or slow. In addition, dental implants aren't appropriate for children or teens until their jaw growth is complete.
The Process: Dental implant surgery can be performed in our office using either a local or general anesthetic. The implants actually replace tooth roots; they are placed into the bone surgically. Generally made of commercially pure titanium, this metal has the remarkable ability to fuse with the bone as it heals forming a union known as osseointegration ("osseo" – bone; "integration" – to fuse with). This process takes two to six months depending upon many factors of which bone quality is the most important.
The next step is to place an abutment (a small connector) which attaches the implant to the crown. The crown is the part of the tooth that is normally seen in the mouth above the gums.
Assessment of your individual situation and deciding if dental implants are right for you takes knowledge and experience. Contact us today to schedule an appointment to discuss any questions you may have regarding dental implants. Read more about this topic in the Dear Doctor magazine article "Dental Implants: Options for Replacing Missing Teeth."