My Blog
Posts for: July, 2014
By Gallery Dental
July 23, 2014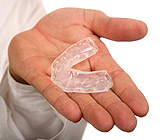 Concussion in athletes is a topic that's getting lots of attention recently — not only in professional leagues, but also at the level of high school, collegiate and amateur sports. Helmets are being increasingly used in both contact and non-contact sports, like skiing and biking. But when you're looking for quality gear that gives you additional protection against head and facial injuries, do you think of getting it at the dental office?
According to some new research, you should. A study published in the journal of the Academy of General Dentistry shows that a custom-made mouthguard, obtained at a dentist's office, is more than twice as effective against mild traumatic brain injures (MTBI) and concussions than the over-the-counter (OTC) mouthguards you can get at a sporting-goods store.
The randomized study followed six different high school football teams, with a total of 412 players. Half were assigned to wear custom-made mouthguards, while the other half used OTC types; all wore the same type of helmets. When the season ended, a total of 24 MBTI/concussion injuries were reported, for an overall rate of 5.8 percent.
But the study revealed that not all mouthguards are created equal: The incidence of concussion for players wearing OTC mouthguards was 8.3 percent, while the group with dentist-provided custom mouthguards had an incidence rate of just 3.6 percent — less than half the rate of the OTC group!
That's a big difference — and there's one more thing to consider: While they can give you additional protection against concussion, mouthguards are primarily designed to protect your teeth from serious injury. It is well established that athletes who wear mouthguards significantly reduce the risk of dental and facial injury. That's why they are recommended by the American Dental Association, and why so many sports leagues and associations require their use at all levels of play.
A custom fabricated mouthguard, made from a model of your own teeth, fits you better than any generic type can; it's also a better investment. The mouthguards we provide last much longer than the "boil-and-bite" or self-molded ones available in sporting-goods stores and big-box retailers. And if it prevents a single serious injury, a custom-made mouthguard can pay for itself many times over — not only in terms of medical bills, but also in time lost from school or work… and on the field, the trail or the slopes.
If you have questions about custom-made athletic mouthguards, please contact us or schedule an appointment for a consultation. You can learn more by reading the Dear Doctor magazine articles "Athletic Mouthguards" and "An Introduction to Sports Injuries & Dentistry."
By Gallery Dental
July 15, 2014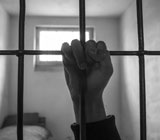 When a 51-year-old Swedish man developed a throbbing toothache with facial swelling, he knew he needed to get to the dentist right away. There was only one problem: The unnamed individual was inside the Östragård minimum-security prison, serving a short sentence. But he didn't let that stop him from getting dental treatment — he simply broke out of jail and headed straight for the nearest dental office.
"In the end, I just couldn't stand it," he explained to the Swedish newspaper Dagens Nyheter.
After the offending tooth was extracted, the offender himself went to the local police precinct and turned himself in. Taking his circumstances into account, the court added just 24 hours to his original sentence, and he was released soon thereafter. "Now I only have to pay the dentist bill," he noted.
While we certainly don't encourage jailbreaks, we might feel that this fellow made the right choice. It's important to know when you need to get dental treatment right away, and when you can wait. Here are some very basic guidelines:
If you're suffering a traumatic dental injury that is causing you severe pain, or you can't control bleeding after applying pressure for a few minutes, go to the nearest emergency room right away (as you would for any serious injury).
If your tooth is knocked out or loosened, it should be treated in the dental office or emergency room within 6 hours. Place it back in its socket (in the correct orientation), if possible; if not, tuck it between the cheek and gum, or put it in a glass of cold milk. Hold the loose tooth gently in place. It's often possible to successfully re-implant a tooth that has received quick first aid.
If a tooth is chipped or cracked less severely, try and save any missing pieces, and make an appointment to come in as soon as you can. Don't forget to bring the pieces with you!
If you have acute or persistent tooth pain, come in to our office right away. There are many things that can cause tooth pain, including tooth decay (a bacterial infection), a loose filling, or tooth sensitivity. Minor sensitivity or occasional aches when chewing can be temporarily eased by rinsing with warm salt water and taking an over-the-counter pain reliever; more severe pain may indicate that you need root canal treatment to preserve a tooth in which the pulp has become seriously infected.
Pain is the body's way of telling you that something's wrong. When you experience mouth pain, it's best for you to see us as soon as possible. Quick treatment just might save your tooth — and perhaps save you from a far steeper bill for tooth replacement. If you would like more information about dental emergencies, call our office for a consultation. You can learn more in the Dear Doctor magazine article "Tooth Pain? Don't Wait!"