My Blog
Posts for tag: mouthguard
By Gallery Dental
October 03, 2013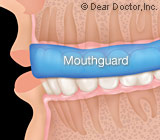 Participating in athletic activities offers numerous well-documented health benefits — not to mention instilling the intangible values of discipline, teamwork and goal-setting. Of course, in nearly every sport, the possibility of injury exists as well. But don't let that stop you or someone you love from playing! Instead, you can learn about the potential hazards of dental injury, and take some practical steps to minimize the risk.
It should come as no surprise that injury to the mouth is an ever-present possibility in so-called "collision" sports like football and ice hockey. But did you know that the greatest number of dental injuries result from the games of baseball and basketball, which are often played informally? Even non-contact sports like skiing, bicycling and skateboarding carry a real risk of injury.
Who suffers dental injury? Men are slightly more likely than women — but only by a small percentage. Injury peaks in the teenage years, and seems to decrease afterward — but older athletes tend to have more severe problems. In short, most anyone who participates in sports is subject to possible dental injury.
Besides the obvious aesthetic imperfections, a damaged or missing tooth can also result in functional problems with the bite — a potentially serious condition. If a tooth can't be immediately replanted, restoring it can be expensive: The total cost of each tooth replacement is estimated at $10,000-$20,000 over a lifetime. So tooth damage or loss can cause a multitude of troubles.
The American Dental Association (ADA) has recommended that participants in all of the sports mentioned above — as well as two dozen others — should wear a custom-fitted mouthguard. Why? Because when it comes to dental injury, an ounce of prevention really is worth a pound of cure.
Numerous studies have shown that wearing a custom-fitted mouthguard is an effective way to prevent dental injury. According to the Academy of General Dentistry, mouthguards prevent some 200,000 injuries each year. And the ADA says that athletes who don't wear mouthguards are 60 times more likely to sustain harm to the teeth than those who do wear them.
Off-the-shelf mouthguards in a limited range of sizes are available at many sporting-goods stores. But these can't compare to the superior protection and durability offered by a mouthguard that's custom-made just for you. Using an exact model of your teeth, we can individually fabricate a piece of protective gear that fits correctly and feels comfortable in your mouth. A custom mouthguard may be more economical than you think — yet its real payoff comes in preventing dental injury.
If you have questions about mouthguards or sports-related dental injuries, please contact us or schedule an appointment for a consultation. You can learn more in the Dear Doctor magazine articles "Athletic Mouthguards" and "An Introduction to Sports Injuries & Dentistry."
By Gallery Dental
August 14, 2013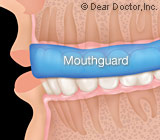 Whether you are a serious or "weekend" athlete, you know the importance of protecting yourself against injury. While looking after your joints, ligaments and bones may garner most of your attention, you shouldn't neglect looking after your teeth and mouth as well. In fact, there are more than 600,000 emergency room visits each year for sports-related dental injuries. A knocked out tooth could eventually cost you $10,000 to $20,000 in dental treatment during your lifetime.
The best protection is really quite simple — wear a properly-fitted athletic mouthguard. Researchers estimate that mouthguards may prevent more than 200,000 dental injuries annually. Be aware, though — not all mouthguards are alike or provide the same level of protection.
Mouthguards generally fall into three types. Stock mouthguards are the least expensive of the three, and also the least effective at protection. They come in limited sizes and can't be customized to the wearer. "Bite and Boil" mouthguards are made of thermoplastic that becomes pliable when heated (as when boiled in water). In this state the mouthguard can be pressed into the wearer's teeth, which hardens to that fit once the thermoplastic cools. However, the fit isn't exact and they don't always cover the back teeth. Also during the heat of competition, the mouthguard softens and loses some of its stability and protection.
While more expensive than the other two types, a custom-fitted mouthguard made by a dentist provides the best level of protection. Made of a tear-resistant material, they are more comfortable to wear than the other types and cover more of the interior of the wearer's mouth.
A properly fitted and worn mouthguard protects the mouth and jaw area in a number of ways. It cushions the soft tissue of the lips and gums from cuts and abrasions caused by contact with sharp teeth surfaces after an impact. It absorbs and distributes forces generated in an impact that can cause tooth loss or even jaw fracture, and also cushions the jaw joint (TMJ) to reduce the likelihood of dislocation or other trauma.
A custom-fitted mouthguard can cost hundreds of dollars, but that price is relatively small compared with the physical, emotional and financial price you'll pay for an injury. This investment in your oral health is well worth it.
If you would like more information on the use of athletic mouthguards, contact us or schedule an appointment for a consultation. You can also learn more about this topic by reading the Dear Doctor magazine article "Athletic Mouthguards."